YSU Centofanti School of Nursing Faculty and Staff Receives Appreciation Award
Dr. Nancy Wagner and the YSU Centofanti School of Nursing faculty and staff received a College Appreciation Award from the Bitonte College of Health and Human Services on Oct. 7.
Over the last two years, under the leadership of Wagner, the Centofanti School of Nursing has had a landmark tenure. The school not only increased the number of students enrolled by almost 50 percent, but has also received two major accreditations, a continued state approval, the creation of a doctoral program in nurse anesthesia, and an associate program for R.N.s. They were also awarded a no delay in student progress after the COVID-19 lockdowns by the college.
"I'm incredibly proud of our faculty. They work hard not only for the success of their students but also their own personal excellence," Wagner said.
Wagner cites the long-standing faculty for the success of the Centofanti School of Nursing.
"When I first started at YSU I was pleasantly surprised by the tenure of the faculty. The core faculty group had been teaching the nursing students for 25 to 30 years. Currently, our newest faculty group have this same unique dedication to YSU and their students that you don't witness very often," Wagner said.
"Additionally, a goal of our YSU School of Nursing is to provide a qualified nursing workforce to hospitals and healthcare facilities in our community. Whether it's a bedside nurse, advanced nurse practitioner or nurse anesthetist, it's important that we provide those roles for our health and well-being," Wagner said.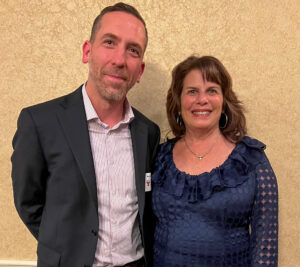 Ken Bielecki, Jewish Family & Community Services Executive Director, and Dr. Nancy Wagner were honored by YSU.