Tucked within an oasis of finely manicured courtyards and outdoor gardens on the 18-acre campus of the Youngstown Area Jewish Federation are 5-star rated senior living facilities where unmatched, comprehensive quality of care – both clinically and socially – are graciously offered to all who enter.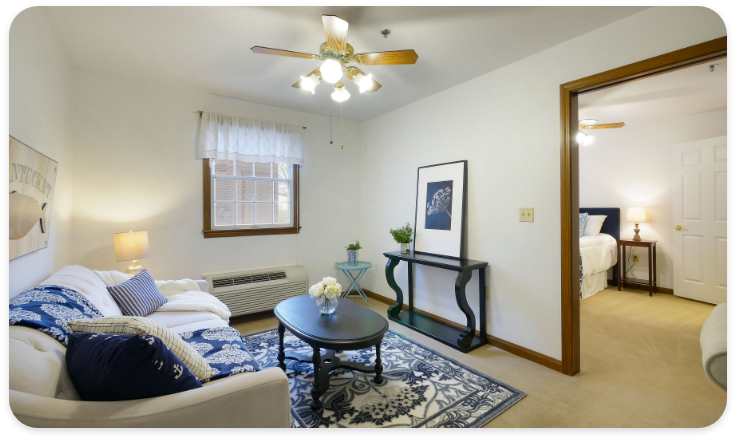 Heritage Manor Rehabilitation & Retirement Community and Levy Gardens Assisted Living were born out of a desire to provide home-like senior services for an aging Jewish population starting in the 1960s. Over the years they have evolved to share those same deep-rooted, faith-based values of righteous giving and loving kindness to the broader Mahoning and Shenango Valley communities. What these two facilities represent today is a diverse and inclusive resident and tenant population where all faiths and cultures are not only recognized and respected, but celebrated.
The highest standards of care, manifested in part by responsive, market-leading staffing ratios, and 100 percent private rooms, are committed to being followed each and every day at Heritage Manor and Levy Gardens. There is a rich history to preserve here and a deep commitment among all staff members and clinicians to uphold a mission of adding enrichment to each individual's life … while also providing a sense of trust and confidence among families that their loved ones are being cared for just as attentively as they would be at home. Because in our mind that is where they are. This is their home.
Heritage Manor Mission Statement
Heritage Manor is a not-for-profit provider of health, housing, social and spiritual services. Our mission, guided by Jewish values and traditions, is to provide excellent care to those we serve, and to help them add life to their years.
Levy Gardens Mission Statement
It is the mission of Levy Gardens to respect each tenant's needs and desires. Levy Gardens is dedicated to promoting independent living with the support of caring, qualified, and experienced professionals. We strive for our tenants to maintain the highest quality of life through recreational, educational, social, and cultural programming year round.
Association of Jewish
Aging Services
Direction Home
of NE Ohio