On September 22, Levy Gardens Assisted Living hosted a 25th anniversary celebration for its tenants and the community. Community members were invited to tour the facility and enjoy a formal presentation to look back on the last 25 years and to look forward to the future.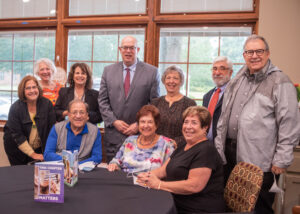 "25 years ago, members of our community saw the need for an assisted living facility. Plans were made and funds were raised. The result was this beautiful addition to our 18-acre campus. Levy Gardens, originally called Heritage Gardens, was conceived for the purpose of serving the assisted living needs of older adults in the Jewish community. Today, everyone is welcome at Levy Gardens, regardless of religion," said Andrew Lipkin, Youngstown Area Jewish Federation CEO.
On November 7, 1996, ground was broken for Heritage Gardens. The first tenant, Morris Bosch, began living there on September 12, 1997. Through many updates, and a name change, Levy Garden's commitment to care for the aging population has never changed.
"As an agency of the Youngstown Area Jewish Federation, fulfilling its mission is an integral part of what we do at Levy Gardens. We are guided by the values of Tzedakah (righteousness), Klal Yisrael (the responsibility of each Jew for another), Dor l'dor (the continuity of the Jewish people), and Tikkun Olam (repairing the world)," said Nick Hargate, Director of Levy Gardens.
Levy Gardens features 24 one and two-bedroom spacious residential apartments with complete kitchens. Tenants have access to the continuum of care available through Heritage Manor Rehabilitation & Retirement Community, as well as supportive programs through Jewish Family & Community Services. Each also receives a membership to the Jewish Community Center. Transportation to doctor appointments, grocery stores, and more is available. Tenants receive on-site support for daily living activities such as bathing, dressing, and medication management, while maintaining their independence. A variety of activities are also available onsite.
"We're in the process of establishing an intergeneration program between our tenants and Akiva Academy students, and our tenants read to students at Akiva. Art teachers from the JCC bring art programs to Levy, and tenants participate in lunch and learns at the JCC. They also participate in Mitzvah Day annually, a day devoted to social action," said Hargate.